Archive for November, 2010
I have had many people ask me how my blog paid for my ipad so I decided to write about the process in this blog post. My blog is a resource for real estate and mortgage professionals to learn how to effectively market their business using social media and internet marketing strategies. I share about the best tips and strategies as well as upcoming major real estate social media, marketing, blogging or networking events.
Think through your business for a moment. Do you have a following on Facebook, Twitter or LinkedIn? What about your customer email list? First, it is important to have people that are interested in your business which is your target market. It is vital to grow your target market by promoting through channels such as blogs and social media.
Obtaining email addresses from your potential client is also a necessity. Here are 3 Innovative Ways To Capture New Leads that will get you started on this particular journey. You also want to share great content with your audience and not just promote you or your products.
**This will allow you to become a trusted advisor in your particular niche.**
 Photo Credit: Shutterstock
As you grow into their trusted advisor, sharing about helpful events that will grow their business is even more appealing to your potential clients. I will share about the major event, Facebook Success Summit 2010 that allowed me to generate extra income to purchase my iPad. The majority of my income from this blog is generated via consulting followed by selling my own products so the extra $1,000 that I made from promoting this event was a great bonus.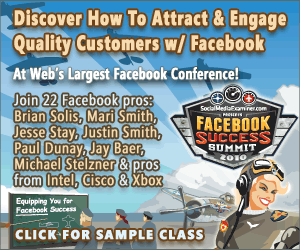 If your particular niche can benefit from an event like this, then I suggest that you promote any event that Michael Stelzner hosts as they are phenomenal. Check out Michael Stelzner's link for the overview of this event. Again, find out what your customers are interested in and share with them as well as post them on your blog especially those that generate income.
Then I proceeded to share about the event through various blog posts, Tweets, Facebook, my LinkedIn Group and my email list with very catchy headlines.  Mike does an incredible job of providing compelling headlines as well as sample blog posts so that helped as well. It is important to mix it up a bit so you are not saying the same thing over & over again. Make each update more exciting than the last one.
Social Media Examiner is hosting their next Facebook Success Summit 2011 starting in October:
So start thinking of events or items of value that you can share with your audience and promote, promote, promote! Although I'm a little anal about fingerprints, I'm getting over it as I'm enjoying my new toy. Go make blogging happen in your business.
Naomi Trower
Real Estate Broker
Social Media Strategist
Social Media Real Estate Marketing
Join Us On Facebook
http://facebook.com/RealEstateSocialMediaMarketing
If you are anything like most real estate professionals,
**YOU'VE LEARNED ENOUGH AND YOU'RE READY FOR RESULTS!**
Photo Credit: Shutterstock
At least, that's what you thought, until you received your first lead from your blog or found your first client on Facebook. Then the light bulb went off.."Hey this stuff is working! How can I get even more results?" Let me share with you some of the top things that have been continually bringing new clients in my online world.
Finding More Fans For Your Facebook Page
I hit the jackpot recently by testing a few different Facebook engagement advertisements for my Facebook business page. I actually had to stop the ad because it was converting too well and I didn't plan to spend that much money so fast!
Most people do not click on the ads in the sidebar while on Facebook, but think about it..What draws your attention away from your newsfeed the most?
PICTURES! It was amazing the results that I received just by simply changing the picture. It's very important to find a picture that will draw their attention. Here is the picture that drew so much attention to my target audience:
My ad simply said "Social Media for Real Estate & Mortgage. Join our Page!" The sweet spot was that my target audience were all popular real estate & mortgage related fan pages. This means that my face would pop up on the sidebar of all of the profiles of people that are part of these pages. The funny thing is that I've tried different words to entice people to click on my ad but it was the picture that drew the most people to my page. Ok, on to the next goodie…
Target People On Their Birthday
 I have a natural tendency to remember birthdays. Can you believe that I remember birthdays of my friends from grade school? Obviously these people have left an impression on me so I love to celebrate them. I've had many people tell me that they didn't have anyone in real life tell them Happy Birthday but their Facebook friends really encouraged them on their special day. It is possible to create another Facebook ad with your picture just simply saying "Happy Birthday from Me to You" with a link back to your fan page. Again, choose birthdays from your target market by selecting related Facebook pages.
Photo Credit: Shutterstock
Get Found By Blogging
Here is another great story from one of my Facebook friends. I received a message that said, "I was doing a Google search on how to promote my Facebook fan page and guess who's article came up in the top of the list?" Wow! I wrote that article 1 year ago on Social Media Examiner and I'm still getting clients as a result of that blog post. The more that you write about the top questions that your clients have, the more chances that your perfect client will find you online. This resource below, 31 Days To Build a Better Blog has helped me tremendously to grow my blog.

What Results Are You Looking For?
Are you looking for more results in your social media and online efforts? Let us know in the comments what area that you would like to see more results in your business.
Here are a few great examples of what you can do with Facebook engagement ads:
1. Grow Your email list
2. Grow Your Facebook fan page
3. Grow your real estate or mortgage team
Be sure to connect with me for help with your next Facebook engagement ad.

Naomi Trower
Real Estate Broker
Social Media Strategist
Social Media Real Estate Marketing
Join Us On Facebook
http://fb.com/RealEstateSocialMediaMarketing