How My Blog Paid For My iPad
I have had many people ask me how my blog paid for my ipad so I decided to write about the process in this blog post. My blog is a resource for real estate and mortgage professionals to learn how to effectively market their business using social media and internet marketing strategies. I share about the best tips and strategies as well as upcoming major real estate social media, marketing, blogging or networking events.
Think through your business for a moment. Do you have a following on Facebook, Twitter or LinkedIn? What about your customer email list? First, it is important to have people that are interested in your business which is your target market. It is vital to grow your target market by promoting through channels such as blogs and social media.
Obtaining email addresses from your potential client is also a necessity. Here are 3 Innovative Ways To Capture New Leads that will get you started on this particular journey. You also want to share great content with your audience and not just promote you or your products.
**This will allow you to become a trusted advisor in your particular niche.**
 Photo Credit: Shutterstock
As you grow into their trusted advisor, sharing about helpful events that will grow their business is even more appealing to your potential clients. I will share about the major event, Facebook Success Summit 2010 that allowed me to generate extra income to purchase my iPad. The majority of my income from this blog is generated via consulting followed by selling my own products so the extra $1,000 that I made from promoting this event was a great bonus.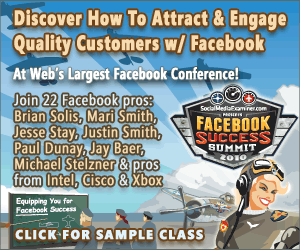 If your particular niche can benefit from an event like this, then I suggest that you promote any event that Michael Stelzner hosts as they are phenomenal. Check out Michael Stelzner's link for the overview of this event. Again, find out what your customers are interested in and share with them as well as post them on your blog especially those that generate income.
Then I proceeded to share about the event through various blog posts, Tweets, Facebook, my LinkedIn Group and my email list with very catchy headlines.  Mike does an incredible job of providing compelling headlines as well as sample blog posts so that helped as well. It is important to mix it up a bit so you are not saying the same thing over & over again. Make each update more exciting than the last one.
Social Media Examiner is hosting their next Facebook Success Summit 2011 starting in October:
So start thinking of events or items of value that you can share with your audience and promote, promote, promote! Although I'm a little anal about fingerprints, I'm getting over it as I'm enjoying my new toy. Go make blogging happen in your business.
Naomi Trower
Real Estate Broker
Social Media Strategist
Social Media Real Estate Marketing
Join Us On Facebook
http://facebook.com/RealEstateSocialMediaMarketing